PanAfrican ACT AFRIQUE Group appoints three new independent directors to its board
---
---
---
---
August 31, 2020 - 7:29 AM WAT
ACT Afrique Group announces the appointment of three new independent directors to its board, including its new chairman effective 4 August 2020 :
• Prof. Muhammadou M.O. KAH, new chairman of the board
Prof. KAH is the founder and Chairman of a Start-up Khamsys Technologies located in Bijilo, The Gambia. Prof.KAH served as the third Vice Chancellor of The University of The Gambia (UTG) (2009- 2015), where he also held the position of Professor of Information Technology & Communications and Overseer of the Gambia College. He was the first Gambian born to lead the UTG and the longest serving. He is currently Vice President of Academic Affairs & Provost and Professor of Information Technology & Computing at The American University of Nigeria, Yola, Adamawa State. He also served as Vice Rector for Technology & Innovation and Founding Dean of the School of Information Technology & Engineering at ADA University in Baku, Azerbaijan (2015-2017). Prof.KAH has held teaching and leadership positions in the U.S. Africa, Middle East and Eastern Europe. Prof. KAH is passionate about advancing the human condition by strengthening computing, engineering, science, Guiding and leading Strategy & innovation and Organizations and providing thought leadership in IT & Computing education and higher education. He serves in many boards in banking (Zenith Bank-The Gambia) and higher education in The Gambia and Nigeria. He also serves as a member of the Malabo Montpellier Panel and the EuroScience Forum 2018, amongst others. Prof. KAH completed his BS, MS. and Ph.D. at the Stevens Institute of Technology, Hoboken, NJ, one of the top engineering and technology management universities in the USA. Prof. KAH also holds a Masters of Science in Financial Engineering from George Washington University, Washington, DC. and a Postgraduate Diploma (DipSI) in Strategy and Innovation from the Said Business School, University of Oxford. In addition, he completed several Executive Education Programs among which the Advanced Leadership (ALP) Program of the Cambridge Judge Business School, University of Cambridge. In Corporate Governance, he has completed the highly reputable International Directors Program (IDP) as an Internationally Certified Director (IDP-C) from INSEAD, through the INSEAD Singapore and Fontainebleau, France, Campus. Prof. KAH is also a member of the Institute of Directors (IoD) in London.
Prof. KAH is a Gambian citizen.
Ms. Thabi LEOKA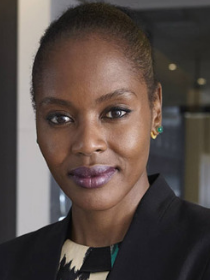 Thabi LEOKA is an Economist who has worked for various organisations in the financial sector. Thabi was recently appointed to Commission of the Public Investment Corporation by President Cyril Ramaphosa. She was appointed by the Minister of Finance to review the zero-rated products in order to support the poor and vulnerable in the country. Thabi is also a non-executive director of SA Express. Thabi started her career as an Economist at Investec Asset Management in South Africa and London. She has also worked as an Emerging Markets Economist at Barclays in London and Head of Economic Research, SA at Standard Bank and the Chief Economist for SA at Renaissance Capital. Thabi was named the Economist of The Year 2017 by ABSIP. She writes for various publication both in South Africa and internationally. Thabi has a PhD in Economics from the University of London, MSc in Economics and Economic History from the London School of Economics and MA (Distinction) from the University of the Witwatersrand. Thabi is a South African citizen.
Mr. Moctar FALL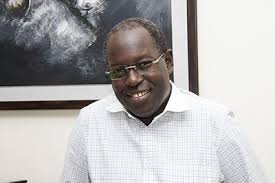 Moctar FALL is the Founder and Chair of Agroseed and Hortisol , agricultural Fair Trade ( FT ) companies delivering goods and services to domestic regional and international markets. He is an international expert, trainer and consultant on trade, environnement and development issues. Founder and former Board member of the World Fair Trade Organisation ( WFTO ) for 12 years, Moctar contributed significantly to promote and expand FT worldwide and build up the Sustainable Fair Trade Management System – SFTMS – which stands today as the FT standard reference. Moctar have been for 16 years trade negotiator for Senegal, WAEMU and ECOWAS on WTO, UNCTAD, and EU-ACP multilateral trade negotiations and a lecture at Reims ( France) and Dakar Universities for 2 years. Moctar is Chairing the Board of senegalese Horticulture Cluster association. He is the convener of 4th AAHC ( All Africa Horticulture Congress ) as ISHS ( International Society for Horticulture Science ) to be held in Dakar in 2021. Moctar is post graduated in Business Law, specialist of Regulation and holds an MBA from the University of Quebec in Montreal ( UQAM ). Moctar is a Senegalese citizen.
In addition, Prof. KAH is appointed as new Chairman of the Board of Directors of ACT Afrique. In this capacity, he replaces Ibrahima Cheikh DIONG, founder of ACT Afrique, who has resigned from the board. « As the outgoing Chairman of the Board of Directors, I am happy because individuals of such an international caliber and who honor Africa have agreed to join the Board of Directors of ACT Afrique. This is a testament to their confidence in the cabinet, which has always wanted to be pan-African and to adhere to good governance standards. I am confident in their ability to contribute to taking ACT Afrique group to the next level « , said Ibrahima Cheikh DIONG, outgoing president and founder of the ACT Afrique group.
ABOUT ACT AFRIQUE
Founded in April 2012 by Ibrahima Cheikh DIONG, with Fabrice NZE-BEKALE as Chief Executive Officer, ACT Afrique is a pan-African financial and strategic consulting firm based in Dakar. ACT Afrique serves a wide range of clients in the public and private sector, locally and internationally, including: multinational and African companies, private financial institutions, development finance institutions, African governments, institutions and agencies, and non-profit organizations. In addition, ACT Afrique has solid references by advising countries and organizations such as the Republic of Co?te d'Ivoire, the Republic of Senegal, the Bill & Melinda Gates Foundation, the African Development Bank, COFINA Group, Total Marketing, the IAM group. , NMA Sanders and so many others.